Back in March 2018, www.ayzad.com was chosen as the Italian partner site for an ongoing research project by American doctor Galen Fous about personal erotic myths as the possible source of all kinky fantasies. My fellow countrypersons can click a special link to participate in a survey featuring the same questions of the original, allowing Fous to trace the similarities and the differences between the two cultural backgrounds.
Like all such sexology surveys, the initiative suffers from a few imprecisions due to the self-selection of the population sample (they are all kinksters, or pretty open-minded people at the least), to the risk of hucksters entering fake or joke answers, and to possibly suboptimal conditions when the test was taken. Also, my personal hunch is that some questions could be construed as a bit too leading.
On the other hand, the participation was pretty big, with 446 persons who took part to the survey so far. This is a sizeable number for this sort of research, so I fired up Google Forms and got down to make sense of the aggregated results, which trace a rather accurate profile of Italian kinksters.
If you are ready and willing to overlook the awful graphical presentation from the software, here is what I found…
Decade of birth
Let's start from the beginning: the overwhelming majority of the participants is between 19 and 28, followed by a 10.4% of people between 29 and 38… and a wide eight percent of minors who clearly didn't comply with the age restrictions of this website.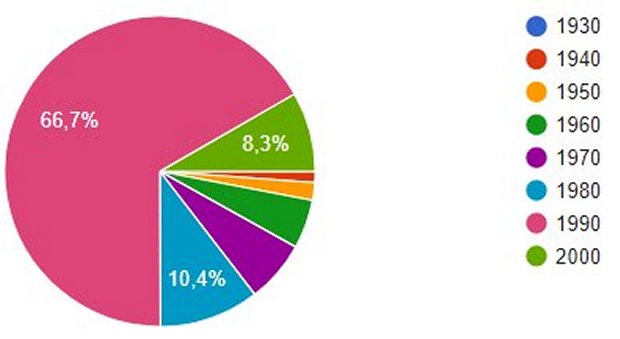 Gender identification
The blue slice is males, the orange one is female, and the rest is not language-specific and pretty underrepresented.
Sexual orientation
Here comes the first surprise. Seven persons in ten stated to be mostly heterosexual… but the second largest group is bisexuals – over a quarter of the participants, even though the category is usually much less sizeable in other sexology studies.
They are followed by 5.3% of pansexuals, 3.9% gay males, 2.5% lesbians and a shy 1.8% of heteroflexible people. If the numbers don't add up, it's because the original survey format allows indicating more than one orientation.
Relationship status
More than the half of the responders – meaning the blue part of the below pie – is in a steady, monogamous relationship, for the disappointment of those who imagined kinksters as a bunch of sex-crazed libertines. Just 18.3% of the participants indicated to be interested (please note: interested, not necessarily involved) in an extended or open relationship.
Legend, from top to bottom: Monogamous; swinger; polyamorous; open.
Relationship length
The couples also look pretty stable, with lots of long and very long-standing relationships. The numbers indicate years, with blue as "less than one year" and light green as "over 20 years".
Satisfaction
22.5% is unfortunately unsatisfied or 'very unsatisfied' with their couples' sexuality. Luckily for them, 58.4% is truly happy with it instead. The legend on the right goes from 'very satisfied' at the top, down toward despair.
Problems derive in three cases in four from a partner disapproving of whatever fantasy is proposed; 15.4% of the participants lack a similar-minded network of friends, and 8.1% yearns to meet a competent professional to receive support from.
Is this just fantasy?
Hold your horses! How many people actually turn their fantasies into reality? According to these results, just 42.9% of them. Which is a truly impressive percentage per se, but an unusually low one when you consider it is the readership of this website we are talking about, and they are obviously very open to experimentation.
Legend, top to bottom: Never, and I'd never do that; never, but I'd like to; I tried it and I wasn't interested; I tried but I am not interested for now; now and then; somewhat regularly; it's my lifestyle.
So it wouldn't hurt to understand where these peculiar erotic dreams come from – and since this is still a too frequent assumption, let's say it loud once and for all …
It is (almost always) not due to childhood traumas
The myth according to which unusual sexual desires always stem from childhood abuse proves to be unfounded. There is an unfortunate 18.4% of participants who were in fact molested before the age of 16 – usually by opposite-gendered persons – but their kinky fantasies only developed after the abuse in less than one-third of the cases.
Gender of the molester: same; different; both.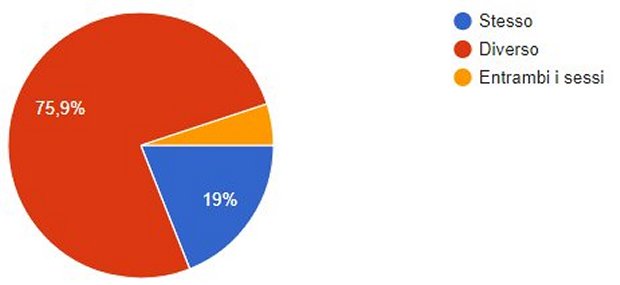 When did the fantasies develop: before the abuse; after it.
Actually, when they were specifically asked whether the abuses influenced their sexual preferences, 33% answered they had nothing to do with their fantasies, and 30,8% that they had no influence. 21,8% of the subjects say the two experiences kind of blurred into each other with generally positive effects; the effects were negative instead for 10.3% of them.
One victim in four (24.4%, to be precise) was later ashamed of their fantasies, while 21.8% was scared of them.
To further complicate things, almost eight persons in ten did not receive any support or therapy to overcome the abuses.
Whereas, usually…
In 61.8% of the cases the earliest kinky desires appeared spontaneously, without any apparent specific external inspiration. When? Generally before the age of 15.
Over half of the persons realize, at some point in their lives, that their fantasies are hardly accepted by the rest of society. The below pie shows the age distribution, with the topmost slice meaning 'never'.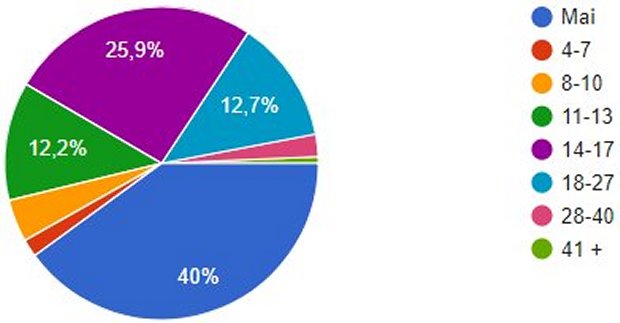 In 44.2% of the cases, such realization didn't have any particularly negative effect, but 36.3% of the subjects were scared that their fantasies could be found out, a quarter of them felt ashamed, and 14.1% desperately tried to repress their instincts. That 11.5% in the next-to-last bar shows the unrepentant ones who felt even more driven to cultivate their "transgressive" sexuality.
Turning it into practice
The below pie shows the age groups in which the responders began exploring alternative erotic practices with a partner in a practical way. The topmost two groups read: 'never' and 'before 15'.
Again, looking closely at the factors that allowed this step you notice how having a trusted and open partner is the key to allow yourself to explore new erotic territories. It is heartwarming to see how just 5.1% of the people interviewed was under the effect of some mind-altering substance: for everyone else it was a very conscious process.
Top to bottom, the legend reads: personal initiative; seduced by the partner; recreational drug or alcohol use; trusted partner; clear negotiation; casual sex.
Following the first experiences, the overwhelming majority of the participants took courage into living their sexuality with a more curious spirit: here is how their interest toward kink changed after the first practical attempts… top to bottom it reads: increased; remained the same; decreased.
Even more important, though, is the overall effect of the experience on their emotional well-being. More than three persons in four benefitted from it, just a small percentage (in red) felt distressed… and the incomprehensible whitish rainbow represents individual – and mostly positive – answers.
Legend: more independent and happy; I felt shame, fear or disgust; ambivalent.