I'll let you on a secret about 99% of the dildos and vibrating sex toys reviews: they are totally worthless. The reason is that 99% of such objects only differ in their shape, reducing the whole matter to finding the ones that best fit one's personal features – the very same toy that has your girlfriend howling in extasy might do nothing for you, or even feel uncomfortable. What remains is that one percent of other cases I am very interested about instead, composed of actually innovative inventions worthy of closer scrutiny.
It must be said that they almost always are concepts way too weird for being of any effect at all. From time to time however you can stumble on game-changing hedonic engineering masterpieces. That is the case, for example of legends such as the Hitachi Magic Wand or the less famous Neon Wand. The sole feature they have in common is having introduced some new technology – just like it has also happened right in these days with the protagonist of this review, the Sona from Lelo's uber-designers.
The basic notion behind this sex toy is that female pleasure – as I hope you already know – is almost exclusively reached by stimulating the clitoris, which however is mostly hidden within the vulva: the visible part is the most sensitive, but also the smallest one. Since no object can titillate all of its parts, the Swedish approach took a whole different direction.
The idea is to vibrate the entire clitoris targetting it with very focused soundwaves – which from a physics point of view are, in fact, vibrations. This high-intensity massage is transmitted from the tip to the rest of the organ, and the result is an especially intense orgasm, and different anyway. It is kinda like the lewd version of standing in front of a concert soundspeaker to feel the power of the music rock you.
Matter of factly, the Sona is a pink, black or red item featuring a funny little mouth that due to my questionable education reminds me of how octopuses are drawn in Japanese manga. That protuberance is actually meant to be applied to the tip of the clitoris, and hides the vibrating membrane that produces the sound waves without ever touching the body. On the toy surface you then find the traditional three Lelo buttons: to raise and lower the intensity, and to alternate between eight different vibration patterns. The last feature is a battery charging connector for the little USB cable in the box.
Actually, I am supposed to also talk about the automatic Cruise control feature… but I honestly didn't understand it. Let me explain: according to theory, when you approach climax you often press whatever sex toy you are using tighter against your body, overly contrasting its inner vibration. This therefore loses power, the motor gets unduly stressed and the fun is ruined right at its peak. Cruise control is a sensor that, when said situation arises, automatically ramps the power up by 20% in order to keep pleasure at its optimal level. Which sounds all fine and dandy on paper, but makes no sense at all with an object specifically designed to never touch skin with its one moving part. In fact, the ayzaddettes who tested out the Sona didn't encounter the issue nor the feature itself. Either it is incredibly efficient, or more probably it is just misplaced. Which brings us to the core of the matter. Is Sona any good?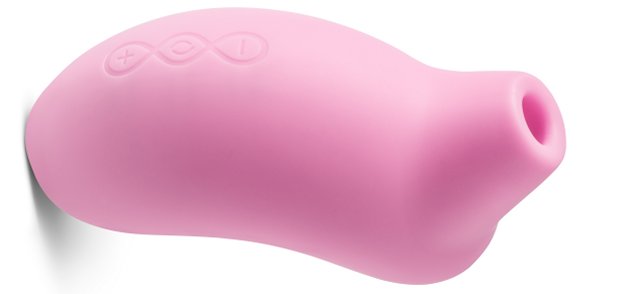 Let's start with the bad news. First of all, as you may have already guessed, partners and guys in particular are cut out of this game – in every sense. This type of sex toy doesn't feel like anything on a male body, but more importantly it cannot be used as a couple: my entire test team agreed on how it must be "pointed" with utter precision to be effective… and this is something you can only do on yourself. Pity.
Also, Sona is meant to emit sound waves – so it does make noise. Not an especially loud one, at all. Yet it is terribly silly, so much so that everyone who held it instinctively started playing at applying it on arms, legs, nose and various surfaces to produce hilarious little concerts that can be best described as "alien robot voice from a Fifties sci-fi movie". Lets' just say that, if you like very serious and somewhat sepulchral sex, this is definitely not the toy you want.
On the other hand, as an instrument of pleasure the Sona absolutely delivers – even too much! In fact, every tester said the same thing, that is: «Well, it isn't like it does anything muc… HOoooohhhoAHAHaaOoohhhhh!!!», followed by throwing it well away and staring at it like it was the antichrist. And yet asking whether she could keep it soon afterward.
In other words, I was told that, even at its lowest setting, the stimulation provided by this toy is extremely intense and focused, so much so that you don't even have the time to appreciate the "vibration everywhere" effect as you have come with uncommon vigor already. Problem is, according to the designers, the sonic waves are supposed to sustain the orgasm longer than normal… but it seems they only manage to feel too strong. Of course what I said at the beginning still holds true: what someone loves may be unpleasant for another. And yet reading other reviews I noticed how many testers pointed out the same "steamroller climax" shock.
Logic dictates that there might be a strategy to circumvent the issue, that is using the Sona while taking a bath. The object is completely waterproof, and the presence of a medium like water should diffuse the sound waves over a larger surface making them more bearable after climaxing… but I confess all of us were too distracted to remember doing that experiment too. Maybe I'll keep you posted – but for the moment I can only congratulate Lelo on an utterly unparalleled invention.