It is said that Eros and Tanathos are two inseparable siblings: wherever one goes, the other always lurks close by. Some days, however, this is more true than usual. Please look at the above picture and try not to focus on the lamp. The man in the bed is Jeff Gord, the founder of the House of Gord brand.
A former engineer, he moved from Britain to the United States to turn his extreme bondage fantasies (illegal in his home country) into a thriving fetish business combining videos, books and special consultancies. In fact, you probably remember him from aCSI: NY season one episode titled 'Hush' – he was the nice man who built terrifying devices such as a mounting rig on which a girl was suspended, upside down, in front of the radiator grill of a truck. And the weirdest part? That was entirely true.

Gord's speciality was furniphilia, or the art of transforming beautiful girls into living pieces of furniture – or erotic vehicles, or even stranger stuff. I remember an extremely complex contraption of his involving a tilting plank, dripping water, a ball gag, a mercury switch and electric butt-plugs… just to transform a model into the fetish version of an alarm clock. This Wile E. Coyote-ish silliness was an integral part of the House of Gord spirit – who else would put working turn signals on a ponygirl cart?
Similarly ingrained in his production was the strong empathy he had in himself as well. Even the most dehumanizing videos included pre- and post-sequences in which he and the models were shown relaxing and joking, with the precise intent of reminding the viewers that they were all normal people after all, and that fantasies and reality are two very distinct things.
I only met him briefly a few times, but I remember a telling episode that took place at a very large bondage event. A plus-sized and pretty shy girl had begged me to intercede with him to get her bound on one of his devilish contraptions. He had a look at her, and he very kindly answered:  «I am afraid you are a bit too large for the custom-tailored rigs I have here… but let's make a deal. I'll be here again next year: you can use the time to get into shape, and I'll be happy to truss you up when we meet again.» That would be gentlemanly of anyone, but the kicker came when she had moved on. «She is so enthusiast,» he said, «I hope she takes this as a motivator to get fit and healthy. I once met somebody who was a chain smoker: I didn't say anything, and that person eventually died of lung cancer. Now every day I damn myself for not having used our common love for kink to save her. Just one order to quit would have sufficed». Not exactly the sort of thoughts you'd expect from a mad scientist.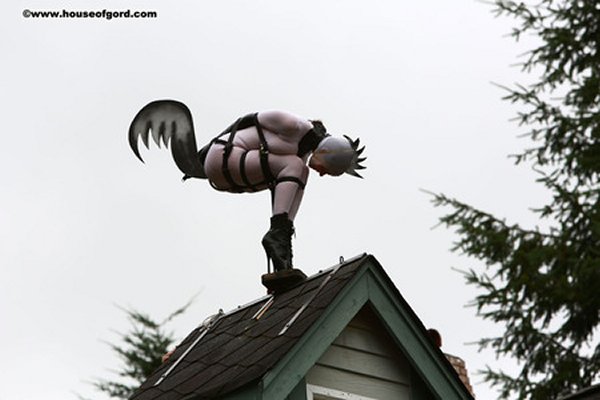 The past tense is sadly due to Jeff Gord's passing last Tuesday, at 67. I take it to have been unexpected: he had a bondage workshop planned in these days and had recently been active as ever, lamenting the same Internet-enabled decline of the BDSM scene I keep ranting against. His organization informed all the fans that his legacy will live on – but this is not really what gave me pause to wonder.
It was just a few weeks ago that I was leafing through my BDSM – A guide for explorers of extreme eroticism, whose chapters end with brief contributions from Italy's foremost kink celebrities. Six of them have left us already in the ten years since its first publishing,  and along with today's news I suddenly noticed how for the first time in the history of unusual sexualities its participants are often reminded of such losses. Before the Internet came to connect us all with likeminded people all over the globe, you only experienced things like BDSM and other uncommon sexual practices in a special, unsullied space and time which was completely removed from your daily life and worries. Kink had a sort of oneiric quality to it: you sought it, prepared for it, experienced it and just as easily put it away until the next time – you couldn't mix it with your everyday routine even if you tried. The side effect of this was that each experience was somehow "perfect". Not that it was always good – far from it, in fact – but in an undiluted, pure sense.
In this age of constant connection through dozens of digital social tethers, however, the boundaries have blurred considerably. In example, I received dozens of news about Gord's loss in a matter of minutes via all sorts of digital devices. You can now be reminded of banal evils such as illnesses and deaths, or family troubles and job difficulties – and they do seep in the unlikeliest of places, like erotic playparties or while reading a kinky online forum. Like the House of Gord post-scene interviews they sure bring us down to earth in a healthy way, but they also detract from the fantasy. How different this is from how our parents and grandparents experienced eroticism!
I can't really decide whether we are better off like this or else. What I can do is to watch this beautiful Swedish programme showcasing Gord's inventions and philosophy (it's in English, don't worry!) or the interview below, and cherish the memories of the man. You, however, are very welcome to comment below.