Have you heard about Making of Love? You probably stumbled upon it online, as the subject of several cookie-cutter articles that boil down to: 'Eight Italian high schoolers are crowdfunding a documentary about a new concept for sex ed, which they want to bring to school'. Which is all very fine, thank you, but vague at best.
Reading the actual project description you can gather a different story. It turns out that two adult filmmakers and one university professor had the original idea: the youngsters were carefully selected and invited to a series of sex positive workshops. When they later discussed their experience, the concept was upended and they personally took charge of the project, making things much more interesting and unpredictable.
The only way of getting to the straight story was to ask them directly. Clode, Enri, Feel, Isa, Lorenzo, Matilde, Matteo and Pip enthusiastically accepted a collective interview – here it is.
Hi! Let's start with introductions… Who are you, and how did you end up working together?
Claudio –  My name is Claudio and I live in coastal Ancona. I have always loved visual arts: I am a movie screenwriting student in Turin. I noticed an eye-catching casting call on Facebook for a project about bringing sex education in schools [Note – less than 3% of Italian schools have a sex ed curriculum]. I went to Genoa, and there I met my seven fellow travel mates.
Mati – Hi! I am Matilde, I am 20 and a student. I learned about Making of Love via a sex shop Instagram page: it all revolves around sex… I was looking for a job, they were casting for the movie, and since I openly talk about sex and I'd love to become a screenwriter I thought it felt tailor-made for me. Talking about the eight of us, we ended up auditioning together in Genoa by chance: we immediately clicked, and the directors Lucio and Anna decided to keep the whole bunch of us.
…and only then you learned what the project was exactly about. To this day, what can we expect from Making of Love?
Mati – It is a two-part project. The doc, directed by Lucio and Anna, will show the backstage of everything that's happening in these months, from auditioning to the workshops, the scripting and the rest. We kids are working on a movie for high school students, to open the minds of all those adolescents who – like us – grew up with porn as their sole example for sex. Our goal is not to impose one single standard take: we'd like to open a window on a much more varied world of different shades of pleasure. I personally love the concept of 'right to pleasure' that we often use to describe what we are doing, because no-one ever says that everyone has the right to experience pleasure without feeling dirty or perverted.
Enri – In a nutshell: it is a movie made by young people wishing to bring sexual education in schools. Somebody says: «Mamma mia! Kids nowadays know how to do those things», or «They already have one full hour of lesson every year!». But does anyone actually try talking to young people about sex without censoring pleasure? The goal is to destroy the taboos and prejudices surrounding this topic, and to speak to adolescents in a direct, lighthearted and even funny way about sex. We are going to show real bodies talking about every kind of pleasure: masturbation, love and sex for couples, fetishes, BDSM practices, voyeurism, anal sex… and also often overlooked aspects: homosexuality; orientation labels that may be a cage as much as a sanctuary; consent; sharing and love…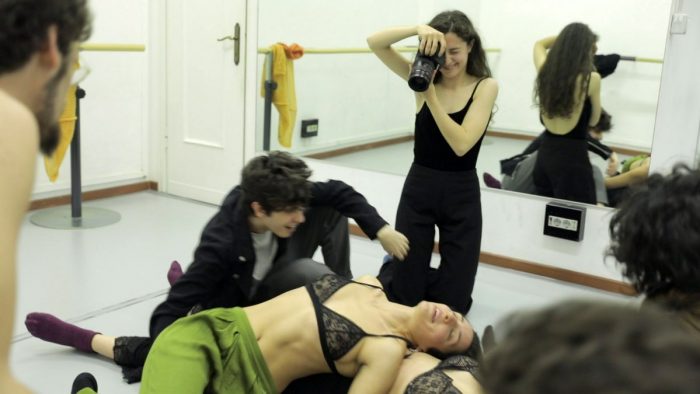 It sounds pretty daunting! How many resources will you need to shoot the movie, and how are you going to finance it?
Enri – After trying to go through bids from film commissions and institutions that never even replied, we started our own crowdfunding. We don't have any upper limit in mind, but realistically speaking our objective is to raise 60,000 euros in thirty days. Anyone can click on the funding page and pledge to their choice! 10 euros get you the two streaming movies; 100 makes you a Producer and 500 a Super Producer! We are also adding "super perks": bonuses created by our own 16 hands. Soon the international teaser will be ready too… I am very curious about it!
I wouldn't want to jinx you, but… what happens if you don't make the expected funding?
Enri – It will become a piss-poor show! No, seriously: we believe in reaching that goal. If we don't, we'll try shooting it anyway, although the movie will obviously be more limited.
How does it feel to be the faces of an unquestionably wonderful initiative, that will however raise lots of controversies? After all, you are just starting out in the job market with a work that will get you discriminated by certain unpleasant but unfortunately influent categories of people.
Mati – Maybe I am too young: I am still studying and the working world feels extremely distant, yet my idea is that we are working for a very good cause. We are not hatemongers… In fact, we are literally talking about love: what's to blame? If some doors will slam on my nose due to Making of love in the future, that will be a sign I was knocking on the wrong doors. We are all pretty intelligent, driven guys, eager to work to bring the beauty of sex to our peers. If anybody sees this as negative I am sorry for them, for they don't know what they are missing out.
The key question turns out to be: ok, but what are you going to show in the film? Is there any self-censorship, maybe to prevent the resistance that education to sexuality encounters every time it tries entering the Italian school system?
Claudio –  I want to make movies, and debuting with such a particular and uncomfortable subject is a risk: it might compromise my image before possible producers. But is their judgment important in the end? I truly believe in the message we want to spread with this film. I feel that talking about these topics is needed, to make people understand it is important to live sexuality the way you feel better, without fear of feeling wrong. This is why I am proud of putting my face on it: I am not afraid of "digital lions" who might bombard me with insults and bad comments. I have the support of a highly synergic group of people.
Enri – It's scary, especially for those like me, trying to emerge in movieland. How will producers and directors react knowing that my name was part of a project some people already define as "dirty" and "satanic"? But the truth is… who cares! I believe in what I am doing and in our vision. More and more people feel the urgency of supporting the project, 'cause its subject is totally absent in the Italian discourse.
I am curious to know the effect, both on a personal and group level, of encountering sex positivity and its philosophy. Does it correspond to what you already knew – or were taught – about sex, or was it a surprise? And how did you change after your workshop-intensive experience?
Annalisa – Encountering the immense world of sexuality, and with such a positive approach to boot, was unexpected, new and surprising to me. I was almost afraid at first, like pretty much all of us according to what we said on the first day. I wasn't familiar with the practices and the approach we were shown in the workshops: I knew what they were, but I had never delved in the culture of those who live these things with joy. We talked and listened so much about sex and pleasure that it became normal, including words that lost their "taboo" aura. Before this definitely life-changing experience, I admit I found it difficult to speak as freely as I do now.
The workshop days were intense, touching: we got in touch with parts of us we probably didn't even consider before, both physically and emotionwise, and I believe this and the project in general keeps changing us day by day, making us more aware. And joyful, carefree.
By magic, now you suddenly are a few years older and with a six-years-old child, who you probably raised according to the Making of Love philosophy. Tomorrow it is going to be their first day of school, where they are going to meet many people who probably won't share your ideas on sexuality. What happens now?
Mati – I know six years aren't much, but I'd really love for my child to be already aware of their worth by then. The Making of Love philosophy is not about imposing yourself; we want to show as much as possible of the sexual universe, and I strongly believe that loving yourself to be part of that. In fact, maybe it takes first place in it. If I will actually have a child in the future, I wish they love themselves, because if you really do you can face anything, including the rawest negativity. And I believe that after a nice discussion with the most hostile moms about all the magic secrets of sex we learned in Genoa, most of them would change their mind and turn to our "perverse" belief.
My heartfelt thanks for your openness. Before leaving, tell me about what's next for your project, and when can we expect to see it completed. Actually, also tell me about your next projects if you have any!
Everyone – We'll go back to our jobs, university and our dreams. Some, like Claudio, Enrica and Lorenzo will attempt to carry on with their art career as actors and directors; others like Matilde, Matteo, Filippo and Piper will continue with university and with chasing their dreams. Maybe after this experience we eight will keep in touch and working even after years… who knows!