I was recently given an iPad as a present, thus ending my 20-plus years streak of happy abstinence from Apple-branded hardware. Don't worry, though: this is not a nerdish partisan rant about the merits of one computer brand against the others. I merely wanted to give some context to my naïve discovery of the «there is an app for that» culture, which amazed me in more than one way. In fact, my past life as a high-tech journalist made me browse the app stores to try and feel the pulse of that scene – but what I found noticeably dampened my already faltering faith in the human race. Here is a selection of the most idiotic "sexual" apps I stumbled upon:
Spreadsheets Meet the worst offender of them all. Fire it up, place the phone/tablet on your bed, and enjoy the most sublime act of them all… knowing that the app is keeping track of how much and how long you are rocking the bed, and how loud you and your partner are. The session results and your monthly and average performances are plotted on a handy graph – and I am seriously worried that somebody is going to share and compare the data with others. I don't think words can express my horror at such a soulless, moronic and shallow conception of sex.
Kindu Would you like to go beyond one very quiet  and quick missionary fuck each Saturday at nine o' clock sharp? Well, you could ask your partner to loosen up a bit, or… you know, talk about it, as in 'communication'. Or both of you could buy an app and very secretly rate how do you feel about a series of activities and practice, letting a piece of plastic and circuits to decide what you might like to do together. Remember, kids: opening up with your significant other is clearly a sin and will send you straight to hell!
MedXcom This one doesn't look like a sex-oriented app at first sight. It's basically a pocket reminder to take your medications… until you discover the safe bumping feature. It goes like this: you are ready to fuck someone, but before getting down to business you take out your phone, ensure he or she has the same app as you, and you "bump" hardware to let them compare your medical history. The iThing the proceeds to inform you whether your sexually transmitted diseases are compatible or not, and you act accordingly. Because of course someone who won't tell you whether he's healthy is going to let a phone break the news to you.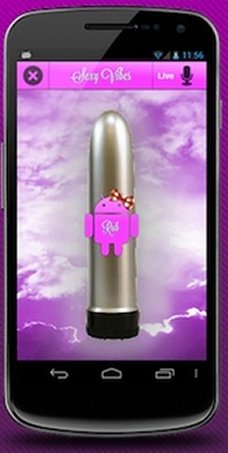 Sexy vibes Chances are you already knew about this one, since it boasts one million and a half downloads already. Its purpose is to activate the vibration mode of your phone in order to use it as a vibrator. Among its admittedly cool features are a "customize your vibration patterns" function and remote activation for some covert play with your partner – and don't forget the optional porny music. It's sort of a letdown that phone vibes are so totally weak they make the whole exercise moot, isn't it?
iBoogie You know the stereotypical sex addressbook, the one with names, phone numbers and 1-to-5 stars beside them? Call me old fashioned, but I always thought it always only existed as one of those sad concepts promoted by juvenile "lifestyle" magazines such as Cosmopolitan or Men's health. I mean, how much of an absent-minded slut must you be to forget the people you fucked with? It doesn't matter, however. This app doesn't just allow you to record and rate your partners, but also to commit to its digital archive where did you go at it, in which and how many positions, how long the "performance" was and other stats-heavy data – while trying to amuse you all along with "witty" mottos to spice up your sad, sad failure of a life.
Cosmo's sex position of the day Talking about Cosmopolitan: there is an app to suggest a new sex position every day, straight from their archives. Which could be fun, if you are the type – excepting the part where you end up at the ER, for the column these positions are lifted from is notoriously written by someone who doesn't have the slightest idea of what real sex looks and feels like, making a sizeable part of them downright dangerous.
Sex drive From time to time, everybody experiences a phase in which desire is lower than normal. It usually depends of fatigue, depression, disharmony with the partner, medications or something just as normal. The best solution is of course to spend more quality time with your significant other and/or simply rest. The other solution is to buy an app to blast your ears with discordant sounds (earphones only, please) for twenty minutes, enhancing your brain waves and boosting your libido. I don't want to imagine the scene of these two people trying to have sex while listening to the "binaural beats" – especially because it's totally, utterly bunk.
A sexy text Choose whether your partner is male or female, a romantic or naughty mood, add one of the preselected pictures, and let the app send the perfect love text. Like, the exact same one your SO and friends are receiving all the time from jerks like you, who can't be bothered to take thirty seconds to think of something nice to say. Great move, Romeo.