This review was originally published by Joanne's Sex Machine and Sex Toy Reviews
This is one book that I will keep referring to
I don't often review books, but this one caught my eye when I was approached by the author Ayzad. Well, it's a guide that covers almost every conceivable erotic, kinky and BDSM fetish that you can think of, so how could I refuse?
As I'm someone who believes that none of us knows it all and we can all continue to learn new things and improve ourselves every day of our lives I jumped at the chance to review it.
"This book is a testimony to the kinky lifestyle and extensive experience of the author, and it is a book that I will be referring to again and again. It is easy to read, and I just can't stress enough just how much useful information it contains."

Joanne
I was, therefore, sent a review copy so that I could read it and then give my honest opinion as to its contents and readability. You see, this is a book that had its first edition published in 2004 in Italy. Yes, the author is Italian, and this book was also written in Italian. This international edition was published in 2016.
I must say though that having read it, you would never know as it has been very professionally translated, edited and proofread before the international edition in English was published.
I was utterly enthralled by it and am considering buying a hardcopy of the book for use as a reference piece as it's that good.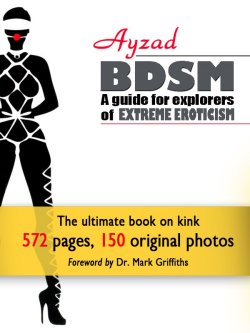 The writing style is clear and concise with a vast amount of pictures used to highlight things or to provide inspiration. Ayzad has a great writing style, and the text flows effortlessly from topic to topic.
The book has lots of information about everything from history to psychological theories; social and legal aspects of the scene together with specific kink or fetish related subjects.
The book starts with the very basics and perfectly covers the Safe, Sane & Consensual (SSC) system of play that everyone uses in the BDSM scene. It stresses safety and dispels many myths about kinksters and BDSM in general.
It then goes on the describe the Dominant/submissive relationship and dynamic very well indeed. It gives you pause for thought and helps you to examine yourself and your thoughts and desires.
One section that I loved was the one on role play. It covers lots of common scenarios and highlights that they all have a power imbalance within them. Whether it be the schoolgirl and teacher role play or police officer and criminal, each highlighted fantasy and scenario has both a Dominant side and a submissive side, and this enables a couple to explore their likes. I love role play, and I hope everyone tries it for themselves too.
Some of the excellent examples used are Gorean life (google the Gorean books), sissyfication, disciplinary academies and boot camps for the military minded. This is just a small fraction of the roleplay opportunities everyone has with just a little imagination.
There is an extensive section on Fetishes and what makes us think that something is a fetish, what is normal? I can guarantee that my version of normal is different to yours. One theme that is found throughout this book is the author stressing that we are all different and we will all be turned on (and off) things differently and that is something to be celebrated.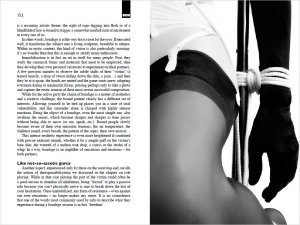 On a side note, there is also a great material care guide, and some of the information in there has come in handy helping me better look after my leather and PVC items.
You can't hear the acronym BDSM without thinking about restraints, rope and impact play instruments. This book explains all of these aspects well, providing an accurate description of equipment as well as their use.
There is a great section on ropework with some easy to follow step by step guides for beginners wanting to experiment in this ancient kink. These step by step guides are fantastic, and I have been on the receiving end of some of them from Stunt Cock.
I love ropework and when Stunt Cock binds me or sub'r' it always gets my juices flowing. Throw in a blindfold and some restraints, and I'm in heaven.
Another section that interested me was the electrosex or e-stim chapter. It has a wealth of information about this sexual practice that I am becoming addicted to. I have amazing hands free orgasms when I use my e-stim kit, and I also enjoy using it on others and seeing their reactions.
I hope that in the next edition E-Stim Systems is added to the list of equipment suppliers as I have a lot of their equipment and it is incredible, and they are worthy of addition in the next edition (please Ayzad).
It carries some excellent advice for anyone thinking about approaching a BDSM professional for some training or an exhilarating experience.
There are too many sections to the book to mention, but one I will mention is the section on piercings and body modification. It was really interesting to learn more about this subject. It's one close to my heart as I have my own intimate piercings as has sub'r'.
The wealth of information in this chapter alone is worth the cost of the book. It is just another in an incredibly long list of chapters jam-packed full of interesting information and advice based on the author's extensive knowledge.
It is a really unique book, it not only gives you background information on the history of BDSM and some fetish practices but it actually guides you safely into new kinks some of which you may not have known even exist. It covers taboo subjects as well as the more vanilla ones.
This book is a testimony to the kinky lifestyle and extensive experience of the author, and it is a book that I will be referring to again and again. It is easy to read, and I just can't stress enough just how much useful information it contains. It even gives advice on relationships and where and how to find partners in this age of online connectivity.
There is nothing I dislike about this book; it's an excellent read for anyone curious about the BDSM scene as well as experienced kinksters looking for advice or for something new to try.
With its almost encyclopedic levels of information on the BDSM scene, I have no hesitation in recommending it to anyone who fancies something kinky to read. It's something that can indeed improve your sex life as well as explain your feelings and desires. Ayzad has done an excellent job or writing a guide that doesn't feel like a guide; it feels as if you have your own life coach guiding you through the murky, turbid waters of the BDSM scene.
It has me eager to learn more about new fetishes, and I am now going to call myself an "explorer of extreme eroticism" as it has quite a ring to it.
Now, where did I put that rope and gag?
Curious about BDSM and want to learn more? Check out Joannes review of this incredible BDSM guide. Click to Tweet
Key Features
Excellent advice and information
Almost 600 pages and over 200 original images
Huge range of subjects and advice
Available in hardcopy or in electronic form
Final Thoughts
This book surprised me in lots of ways. I was expecting something that would be very heavy reading, but the writer's style is relaxed and informative. I soon found myself gagging (no pun intended) to turn the next page to continue reading.
Now I am not shy and am pretty open-minded, but even I learned about lots of new kinky activities and while not all of them are for me I know have some new additions to my "To Do List", so thank you Ayzad.
This book is suitable for beginners just venturing into the world of BDSM all the way through to hardened kinksters as there is something for everyone. It would make an ideal gift for a kinky partner.
Check out Ayzad's website to learn more about his book and also the other books that he has published. If they are half as good as this one, then you are in for a real treat.
I was sent a review copy of BDSM A Guide To The Explorers Of Extreme Eroticism by Ayzad and I would like to thank him for giving me the opportunity to review it for him.

Where Can I Get One From?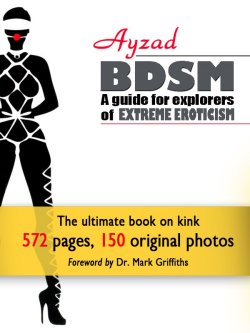 Grab a copy of this fantastic book from Ayzad himself on his own site https://ayzad.com. There you can view sample pages to see what I am talking about and there is lots of information about the author and his experiences together with his other published works.
It is available for the kindle at just $13.95 (£10.32) or as a paperback book for just $27.99 (£20.70).
Check Ayzads's site out and don't forget to tell him that Joanne says "Hi".
Additional Info
Overall Rating:

9.6