Originally posted by Delilahxx, Pleasure Panel reviewer for Cara Sutra
Many thanks to Cara for sending me BDSM: A Guide for Explorers of Extreme Eroticism, by Ayzad to review. I consider myself a beginner in BDSM, have tried a few things, but there is still lots more I'd like to explore. One of my main loves is spanking. I was really interested to read this book, to find out more about BDSM.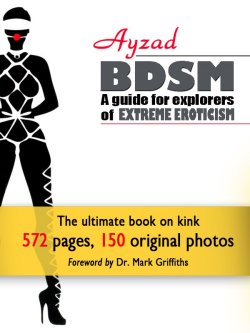 As I started reading BDSM: A Guide for Explorers of Extreme Eroticism, by Ayzad, I realised how densely packed with information it is. I did find it quite hard to read, and had to split it into short segments, so I could take in all the information, It is a very comprehensive book, telling you probably everything you could wish to know about BDSM, and lots more too.
There are chapters you would expect such as role play, fetishisms, bondage, spanking, mind games to name a few. Then others you might not expect such as body modification and one called beyond the ultimate taboo, which is about pee and poo play.
I found the whole of BDSM: A Guide for Explorers of Extreme Eroticism, by Ayzad a very interesting read, although it was hard to read due to the amount of information in it. I would recommend it to anyone with an interest in BDSM, even beginners, because you wouldn't have to read the whole book, just the chapters you are interested in. The author actually recommends you to read the whole book in order, but I don't think this is necessary. And I think picking the chapters you want to read the most makes it more accessible.
I do have one warning about this book though, I did find some places of it triggering, so that is something to be aware of if you have those issues. And that did tarnish my reading of the book once it happened because I was worried about it happening again. Most of the book didn't have that effect though, so I am happy to recommend it to others.
If you want to read the complete history of BDSM in great detail, then you probably won't find a better book than BDSM: A Guide for Explorers of Extreme Eroticism, by Ayzad,
7/10
– Delilahxx
---
Thanks to Pleasure Panel reviewer Delilahxx for this review of BDSM: A Guide for Explorers of Extreme Eroticism, by Ayzad (guide book, £8.99 on Kindle from Amazon – paperback version also available)