Yesterday I was rebuked for my admittedly sparse coverage of bondage, which represents the very first letter in the BDSM acronym after all.
Let me atone with a mini-tutorial from my book BDSM – A guide for explorers of extreme eroticism: this is the simplest version of what kinbaku experts call 'munenawa', or 'rope on the chest'.
The pictures are by La Quarta Corda who, differently from me, only writes about bondage and teaches it too.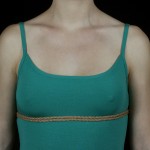 Fold an eight-meters long rope in half and start tying holding its folding point, called 'bight'. Stand behind your subject and wrap the rope below her breasts.
Pass the rope into the bight on the back and pull in the opposite direction to tighten it – moderately. Please note that you are going to place a bunch of rope in this area, and it can be a nuisance or an actual danger to your subject if she lays down onto it, pressing on her spine.
Make a second wrap under the breasts but higher than the previous one. Make sure not to cross the ropes and not to overlay them. Return on the back, pass the rope into the bight and change direction again.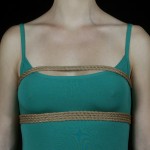 Now make a wrap above the breasts.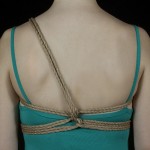 On the back again. Pass the rope under the upper loop and bring it over the shoulder on the opposite side of where you came from.
Bring the rope on the front and down. Slide it under every wrap and between the breasts.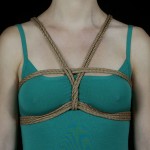 Now bring the rope back up, wrap it around the passage coming from the shoulder once, and over the upper horizontal wrap. Pull it over the other shoulder and tighten it a bit to raise the under-breasts wraps.
Move on the back, where you want to pass the rope under a couple of horizontal wraps and through any loop.
Your bondage is now done! You can fix it by separating the rope ends and closing them in a knot…
…or you can use the remaining rope wrapping it around the vertical passages and blocking it by firmly sliding it between two taut passages.