Here we are again, ready to discover another dozen of the most awful sex toys I recently stumbled upon. I promise this is the final installment of this article – but if you fancy this topic I suggest you to also check out the first and the second part, not to mention the previous pieces in the series.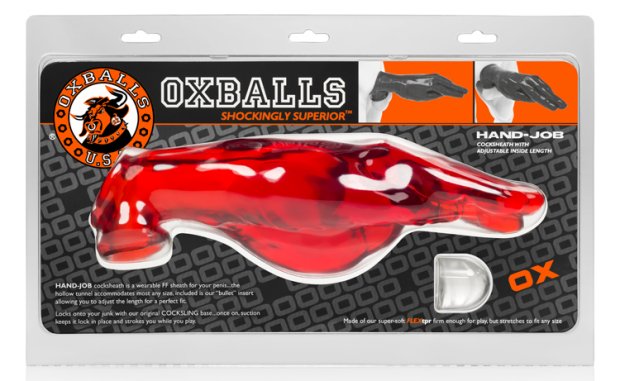 Hand Job
$85
Maybe the picture doesn't make it overly clear, but that red thing is a life-sized hand. And if you look at the upper right corner you will also learn how it is supposed to be used: by wearing it on the penis to allow a sort of fisting that's more uncomfortable for the receiver, but which also doesn't feel like anything for the active partner. Oh well, at least they threw in a (micro)dose of lube too.
Wower Shower
Abandoned project
A talent for sexuality never was very high on the list of the many talents of the sons and daughters of the Brexit, and this shower-dildo offers some clues to the reason why. Please note first of all the angle between the phallic part and the water-squirting one: the concept would be of adding a clitoral hydro-massage of sort to the penetration, but the practical result is just that of flooding the bathroom and more gravely the face, in a sort of domestic waterboarding.
Add to that how the Wower Shower was advertised as 'the first sex toy you don't have to wash when you are done' (yech!) and you can guess why the project was abandoned, leaving just a bunch of prototypes on the shelves of British sex shops.
Puni Ashi DX
$32
What does ever possess sex toys designers into obsessively creating fuckable feet? We had encountered a couple of variations on this theme already in the previous Don't buy it! episodes, but this Japanese interpretation manages to be even more unsettling. The amputated extremity is in fact presented as coming off a child, and the penetrable hole looks a bit like a stigmata in the sole of the foot. Well, if you are a drilled heel fetishist, who am I to judge?
Chichikan set
$40
OK, I lied. I can be judgmental for sure, especially against those who conceive anatomy like an advertisement for ER rushes. The good part is how that sort of people will never have a live partner and they just take it out on sex toys like this one.
The set contains a soft rubber fake tit, a few packs of powdered milk and a mixer-injector to fill the mammary with said milk. Then you press on the breast and… voilà, lactation fans can have fun even without a nursing mom around. The chilling part however comes when you discover that the purpose for which this item was created is another one, that is fucking the nipple like it was a more traditional orifice. And, since I know that at this point you are asking yourself how you can ever clean up the mess resulting from such a hobby, let me introduce…
Furi Furi ona shaker
Discontinued
…another of those products that, since I had first discovered them, had enough time to get discontinued. Pity, for a sanitizing system for used artificial masturbators has its good reason to exist, come to think of it. This one in particular seemed fun for its "shaker-like" method, also shown in the above instructions.
Gnarly rider
$50
One of the most fascinating aspects of the sex toys industry is how it sometimes focuses on really specific tastes, fetishisms and needs. This smart-looking holster, for example, is for attaching your favorite waterproof vibrator onto a pool floating tube, so that you can then ride it and comfortably have fun in the water. Equally fascinating is the «keep your swimsuit on!» instruction, which brings to the mind odd situations with people using it in a public pool, at a water park or in a spa. But anyway: should you have a spare pool, vibrator and floater… you now know what to do with them.
Kyle
$468
Even if the stereotypical sex doll is female, the adult toys market actually offers a certain number of dolls reproducing the male body. Take this Kyle dude, here. Sure, it is legless and it lacks arms, but disregarding that it has it all – including a donkey-like dong. It could be the ideal bed partner in a sense… if it wasn't for the tiny issue of that gaze, reminding of a serial killer who had a stroke while being possessed by a bloodthirsty Sumerian demon. But won't you really fixate on such details, will you?
Gucho monster chimera onahole plus
$35
Let's return to Japan to meet yet another onahole designed by a team of psychopaths. The item in question should portray a chimera, in the genetic meaning of a mix between a woman and… er… a bowl of spaghetti, I'd say. After all, in the first part of this article we have seen how some people likes to have sex with zombie dildos, so why not with an eldritch monster? As a matter of fact, in order to be more "realistic" this sex toy is even composed of two differently colored layers. The inner one is a nice tone of steak red and sculpted with a series of alien excrescences: you only have not to think of copulating with a glass full of offal, and the physical stimulation is guaranteed.
Horse cock
$121
Not everyone has such anomalous proclivities as the customers for the last few items we saw. For example, someone would content themselves turning their mundane zoophile fantasies into reality, if they only had a horse at hand. Lacking that, today you can make do with this replica of the most interesting part of the equine in these circumstances: five kilograms of rubber latex, maybe a little bit unwieldy for shoving it here and there, but extremely useful as a door stopper when the games are over.
1 on the cock and 1 on the balls
$181
The delicate and poetic sentence above is the actual commercial name of this anatomical summary. It is a penetrable quasi-pillow that perfectly reproduces the female crotch… if women had a tongue sticking out of their ass. If you are not disturbed by the thought of intercourse with a freak born out of an incident at the local nuclear power plant, you'll be happy to learn that this item incorporates a vibrator to make the experience even more unlifelike – and that Pipedream Extreme Toyz seems to have a special passion for mutant, nightmarish or simply dangerous sex toys. Just have a look at their website and let me know your impressions.
Sadness-scented perfumes
You know that guy we met in the previous episodes? The one with the wolf underwear and the desperation-scented cologne? Well, as incredible as it sounds, I even found his favorite air fresheners – which of course irrevocably seal his destiny of staying forever unpartnered. Ladies and gentlemen, let me introduce the girly room scent ($12), promising to 'perfectly simulate that one or more girls have just left the place', and the stripper-scented deodorizer ($11) – conceived to give your parent's basement that special touch of lap dancer.
After these jewels, I'd say we could call it a day, but I want to keep my promise of showing you the ultimate deranged sex toy first. The…
Virgin Mary sex doll
$228
What can I say about this 'three hungry holes and lifelike vibrating pussy', according to its box, version of Diamanda Galas prematurely embalmed by a colorblind undertaker who dressed her like mother Theresa of Calcutta? First, that the 'virgin' part kinda defies the point. Then, besides some doubts about that vibration thing, I found splendid how the manufacturer felt the need to specify that the doll will not stand a load above 158 kilograms – a note that, alone, conjures some really crazy situations. You can read the truly marvelous comments of the self-declared users yourself by clicking on the link.
So this is really the end of this season's Don't buy it!. As always, I will need a few months to put together the next selection of pornoabsurdities. I, on the other hand, will be waiting for you on www.ayzad.com to talk about slightly more serious subjects. See you there!
Note – You can find the first and the second part of this article clicking on the respective links.