Do you recognize the above picture? That's a still frame from a video that became viral in the last few days, titled Bubble porn. You can find it attached below, but to get a better idea of what it is all about you probably want to check out this picture first: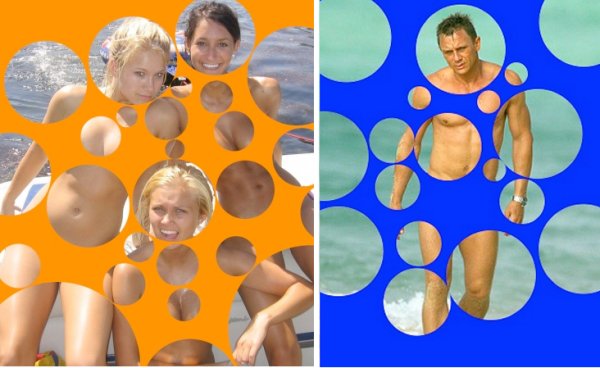 Yup, that's Daniel "007" Craig there on the right, and since he is not particularly known for strutting around in the nude we can suspect that something is funny here. In fact, removing the "bubbly" mask reveals two definitely more mundane photos: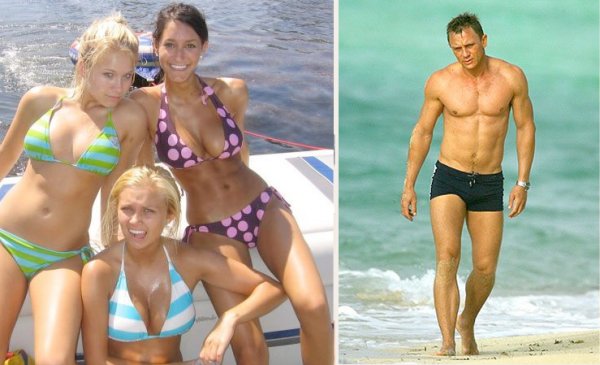 Hundreds of websites are currently labelling this kind of pictures as 'bubbling' or 'Mormon porn'. According to popular lore the very concept of masking regular images to sleazify them was invented by a very observant Mormon kid looking for some way to look at arousing pics without committing any sin – which sounds both clever and funny… if it only wasn't pure bunk.
As a matter of fact the first bubbling pictures appeared online in June 2007 on 2Channel, a Japanese forum known for being a perennial memes originator, where they were tagged as mizutama kora, or 'bubble collages'. They were, however, a digital evolution of sorts of an earlier fad from 2004: back then the game consisted in taking a photo from a printed magazine and "pornify" it by strategically placing 10 yen coins over it, then re-photographing the picture to share the result with friends. Going back even more you will discover the forefather of all these pastimes in the extremely silly practice of furtling, a Victorian trick which was considered highly indecorous (and arousing) in its time. It went like this:
Now that the historical records are straight, however, bubble porn instigates an obvious question: how can such a simple illusion look so convincing to our – admittedly kinky – eyes? The answer is actually threefold. Let's start with gestalt psychology, explaining how our perception of reality doesn't really come from the actual sensorial stimuli, but from our instinctive recognition of complex patterns by a few of their composing elements. Emoticons are a good example: two dots and one curved line are enough to identify a smiling face, and this says a lot about how large is the role played by imagination in what we believe we are seeing.
The second part comes from physiology. The spot where our optic nerve connects to the retina, in the back of our eye, is not the most sensitive as you would instinctively believe; on the contrary, it is completely blind – hence the name of 'blind spot'. The reason we are not aware of it is that our brain automatically deduces what's in that minuscule area of our field of vision by its surroundings, and of course by what the other eye is seeing. You can experiment this by yourself and read a complete explanation here. Anyway, what is important in our case is that our mind and eyes are constantly "imagining" things: with bubble porn they simply tend to complete the picture in the most likely way. But why is our brain filling the blanks with smut?
Here comes the last part of the answer, thanks to evolutionary biology. Turns out that two of the most useful skills for animal survival are recognizing other individuals of your own species, and evaluating their suitability for reproduction, aka 'sex'. These functions are so fundamental that they are controlled by our so-called "reptile brain", the innermost part, working on a completely instinctive level. Since in the natural state people are not clothed and sex is something you do while naked, our most instinctual part still tends to look for naked, sexy bodies. A less Neanderthalian sense of lecherousness sure helps, though.
In short, bubbling plays a trick with the limits of the human body and mind: it's no fault of yours if you keep seeing dirty stuff. The mischievousness of bubble artists does its part, however. Just watch this: