Welcome to the last instalment (for now) of Ayzad's big guide to the secrets of Japanese sex shops, and especially those incredible toys no-one ever heard of in the West.
Once again, I recommend to check out the warnings at the beginning of the first part. And, by the way, if you missed it here you can find the second part.
A10 Cyclone R1 Combo – $178
Last time I left you with the promise I'd show you the scariest male masturbation robot in the world. Well, here it is: the simplest way to explain how this hellish device works is to think of a washing machine and the way its drum rolls in the various phases of the washing cycle. Spin drying included.
The idea is to grab the handle, fit a soft silicone cylinder onto it, add an optional 'well-hung extension', some lube and take courage. The box includes different cylinders for various effects, and the most fastidious users can buy several optional parts. To fuel your worst nightmares, the below video shows it functioning.
Poko poko kozuchi – Sold out!
Since overly hard pastimes are not to everyone's tastes, let me make amend for the previous shock with something much softer. So soft, in fact, to be actually inflatable!
This giant hammer is used to hold a special, wide-opening version of the omnipresent (in Japan) onaholes, or penetrable silicone sheats. To use it, you do exactly what you are fearing: whack your penis in a very literal way, each time aiming for the central hole. If you are new to this website, I'd better state that no, I am not joking at all. Alas.
Karikubi dojo onacup – $17
After seeing this kind of items, it is normal to ask yourself: «how can they use such weird stuff?». However, if you ask to a Japanese sex toy designer his answer will probably be: «why, that's obvious: training for it!». The 'Karikubi exercise kit' has this very purpose – train for sociopathic sex like those crazy Nipponese anime masked wrestlers do. According to the instructions the handles are used to develop faster and more determined moves, but if their basic use is enough for you, you can watch the below commercial (don't worry: it only features a glass dildo), which should win some award for conviction.
Love lick – $106
Not all erotic creativity is for males. Which is good, since Japanese girls need something to spend their time with while the guys are busy testing the infinite toys on the market. Do you see those four pink petals peeking from the device on the left? They are rotating tongues (probably pronounced the same way giant robot pilots scream 'rocket punch!'), controlled by the six-speed switch on the handle. The unfurling tail is a "normal" vibrator instead, to dare unspeakable stimulation combos.
Mobile mini denma – $22
Another ladies' item is the tiniest vibrator in the world, hidden inside a keitai charumu, or mobile charm. Reviews insist that size notwithstanding, it is somehow effective – yet it will never manage to beat the…
Taka Kato hand – $76
The spry guy above is Taka Kato, also known as 'the hand of god' or 'goldfinger'. As the about five billion porn videos he starred in demonstrate, his fingers possess an almost supernatural ability to give his partners devastating orgasms. It was then taken for granted that somebody created a rubber clone of his hand, featuring a hollow wrist of the right size to mount it on hyper-powerful vibrators like the legendary Hitachi magic wand. Not quite the real thing, yet still a best seller of sorts in the shadow of mount Fuji.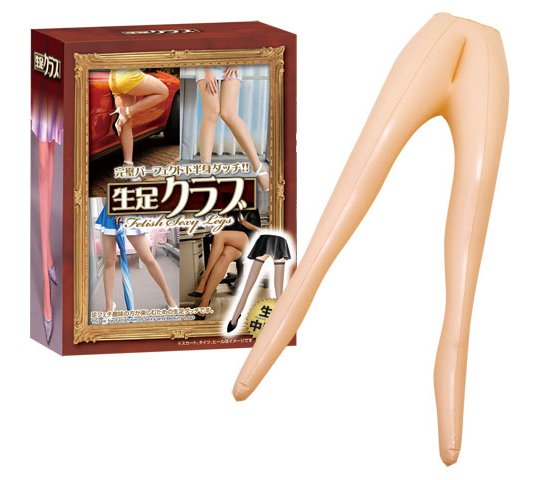 Nama ashi club – Sold out!
Another best seller – so much that it was sold out in every shop I found – is of a whole different nature. These inflatable one meter long legs were born to satisfy those fetishists who, after all, couldn't care less about a whole body. The manufacturer understood this so well that they were sold without any penetrable accessory, which would have been just an useless distraction. If you aren't creeped out enough yet, know that to create this misshapen balloon several bikyaku (leg fetish) models were measured and averaged, in order to obtain the 'most perfect' legs possible.
Sex dolls' electric blanket – $480
Putting down sex dolls enthusiasts just isn't fair. Who are we to judge the private proclivities of strangers who maybe are having deeply satisfying relations with their toys? The fansites are full of such stories, especially when you take into account that some Japanese brands build frightenly realistic simulacra, way better even than the legendary Realdolls. The only inevitable problem with those silicone marvels is that they are cold… so here is the official electric blanket to warm them before use. It is just like your grannie's, it costs 350 dollars more, but what does this matter after having spent over eight thousand dollars on the doll itself?
Ange Bihaku – $8.103
No, really.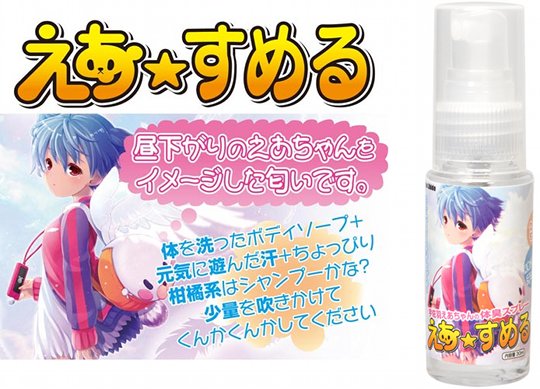 Human scent – $11
Well, maybe for that price they could at least include one of these bottles in the box as a free gift. This perfume replicates the scent of clean yet slightly sweaty (yup, seriously) human skin, to be sprayed onto the dolls to complete the illusion. The heartbreaking part is that if somebody manufactures this stuff, there evidently is a large enough market of customers buying it…
Sperma rush creampie vibrator – $78
Statistics say that among industrialized countries Japan is the one where condoms are used less, and according some research this is also due to the peculiar national passion for contact with every sort of bodily fluid – this is bukkake's home country after all. But what are intelligent people to do if they don't want to risk getting STDs or having toddlers around? One answer is to use this: a classic rabbit-type vibrator to which a bunch of insectoid feelers were added for good measure, along with that small bulb on the side. The idea is to fill the latter with the included artificial substance – or with any other liquid – then merrily and safely squirt it all over your partner when the time is right.
Imouto Paradise idol set – $73
How scatterbrained of me! We are almost at the end of the guide and I haven't mentioned any jailbait-friendly Japanese sex toy yet… let me fix that immediately! Imouto Paradise is just one of the countless porn videogames sold under the Rising Sun: the protagonists are two rather easy young sisters and, as it often happens in these cases, there are lots of people actually in love with them. To come to their rescue, a complete set to simulate the 'girlfriend experience' with miss Aya and Hiyori Nanase was produced: CD-ROM from which the girl "speaks with us", custom onahole with related lube bottle and – here comes the innovation – even panties to be used according to your fancies. Of course there is a different set for each sister.
Shokushu goukan onahole – $24
I must confess a secret: even after all my research in the most twisted meanders of Japanese culture, I still don't get the cult of onaholes. While on one side I can imagine that the sensations offered by those silicone sheats must be pleasant, on the other I can't understand what sort of triple back somersault a brain has to make in order to be aroused by the idea of penetrating a five inches long rough approximation of a human body. And this is the very reason I want to close on the most emblematic piece of Nipponese pornalienation of them all.
Shokushu goukan is a totally deranged erotic genre born out of the absurd censorship rules of the Rising Sun country. Since showing genitals is forbidden even in adult videos, around 1980 somebody thought of making erotic anime with no human penises at all… but plenty of extraterrestrial monsters sporting dozens of phallic tentacles, used of course to abuse innocent little girls with saucer-sized eyes.
Let's then put together all of what we learned this far and the result will be… a onahole in the shape of a female body, pre-raped by a giant tentacle. Should I say more?
[End of Part 3]