This is the final part of my impressions from Boundcon, the bondage, fetish and BDSM trade show in Munich. Here are the first and the second part.
 The original atelier An ancient Venetian mask making shop branched into fetish, creating a line of masks, corsets and muzzles bordering on jewelry. The funny part is that we had never met in Italy, where we live, and that for both of us most of our activity happens abroad since Italians simply seem not to "get" the concept of fetish.
Radiotoy
What would be just another shop – well, almost… they specialize in remote-controlled electrosex toys – was made special by this guy here. Moved by an obvious passion for electrostimulation, he looked and behaved like the archetypal mad scientist as he demonstrated his products gleefully zapping whoever approached. The really tiny units, by the way, are a truly work of art: practical and customizable. German engineering, indeed.
SM-exclusiv
One among several rentable dungeons presented at Boundcon, this three levels place complete with a real underground jail was probably the best looking of the bunch. The really peculiar thing, however, were the very unusual steel toys produced by the dungeon owners. Some of them, like the steel birches and the rough square dildos looked positively dangerous, while others (say, a glass-and-metal necklace pendant to hold your partner's blood or urine always close as a keepsake) were just mesmerizingly insane. The seashell in the pic, of course, is meant for genital torture – what else?
Story of O parties
I often have to explain that secret sex societies don't really exist outside of fiction, but dreamers aren't easily deterred. At Boundcon you couldn't escape the many groups trying to bring to life the events described in the mother – or grandmother? It was first published in 1954 after all – of all BDSM romances, Story of O. Ix dream events organizes no less than four different elitist O-inspired parties, while Exceses de Roissy has another, more affordable interpretation of the same novel. I cannot remember which, but one of them also sold a wicked "ring of O" faithful to how the symbol of ownership is described in the book – an item every fan had long been looking for.
Style fetish
One of the most technically-inclined manufacturers of bondage furniture, Style fetish had an impressive display of their modular system – which they somehow didn't want to be photographed on site. Which might have been for the better, since for all the ingenuity they put in their designs, the devices themselves didn't seem to be as sturdy and efficient as advertised. The more traditional furniture on their website do look better, though.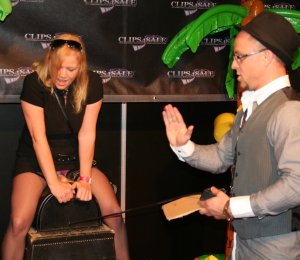 The Sybian test
The Clips4sale guys definitely won the prize for the best merchandise with their mean goodies bags, but also for the funniest audience participation trick on the floor. Their booth had a Sybian, the most powerful and most efficient vibrator in the world, available for anyone to test – but you had to do it in front of everyone. The thing is so strong that people didn't even have to undress; it is also so loud that the hall was frequently shook by a noise not unlike that of a chainsaw, warning everyone about yet another orgasm coming.
Tickling corner
I stumbled on these two Italian guys by chance, as they didn't have a booth. They were hard to miss, however, as you simply had to follow the high-pitched laughers and moans of the female half of the team. They run a membership website (boo!) for tickling enthusiasts, and they obviously have a deep fetishism for the subject, which they turned into an actual research project (yay!) about how humans react to body stimuli. This is no laughing matter, apparently.
Tomto
The quality of the corsets produced by this legendary atelier cannot be surpassed – and unfortunately neither can their prices. They will take measurements in places you didn't know you had, help you choose the materials for each component and custom-make a masterpiece that will awe any fetish party you'll attend – and they create excellent male corsets too.
Your lifestyle
Who do you call when you need a custom-built BDSM iron furniture item for your dungeon, pronto? 'Nuff said.
Zwangsjacke
Or, in English, 'straitjacket'. This is the signature product of a shop specializing in institutional restraints – which is to say the sort of inescapable devices psychiatric patients and convicts are locked in to keep them manageable. It is hardly surprising that they constitute a bondage genre in itself, and that there is a market both for the original items and for their fetish versions, built in leather and similar materials.
The party
While technically not a part of Boundcon, the official fetish party organized on Saturday by Sub rosa dictum was, as always, the highlight of the weekend. Held in a former factory as large as the expo hall (and right in front of it), the party benefits from a ready-made audience composed of all the exhibitors and all of the visitors to the show. Everyone is itching to show off their latest and best fetish look, so the result is predictably gorgeous – albeit rather more relaxed than other similar events due to the exhausting, long hours everyone has just spent at Boundcon. This party consistently ranks in my personal top 5 must-see kinky events worldwide, and it is not surprising that the tickets are often sold out days in advance. The only problem? The following day the trade show is open for business, and you can easily guess the condition everyone is in.